Last Updated on September 27, 2019
I have been lacking a couple of major components to mostly finish out the Captain side, one of which is a set of rudder pedals (the other being seats). I have a seat already, and I'm slowly getting around to refurbishing it, but I really needed rudder pedals. They are critical to flying, no matter what size plane you fly. So I finally decided it was time to bite the bullet and start searching for captain side pedals, with the eventual goal to complement it with a linked F/O side later.
Requirements
My criteria was that I wanted pedals that were ready to go, above-floor, of high quality, physically accurate, and reasonably affordable. I also wanted pedals that would withstand a lot of abuse and if possible, be adjustable forward and aft like the real t hing. And finally, a product that is well supported by the manufacturer and not a fly-by-night operation. That's asking a lot and I expected it would cost me. I wasn't wrong.
The Real Thing
My benchmark, of course, is the real thing. I had taken some pictures of a real 737-800 undergoing maintenance so I had some reference pictures, along with tons of photos from other sources of course.
Looking at the real pedals, I immediately notice the center housing shape, the location and pattern of the bolts, the angled back of the foot rests (behind the pedals), the adjustment handle and circuit breakers that surround it, and the placement of the pedals in relation to the other components around it. These are all points of reference for comparison later.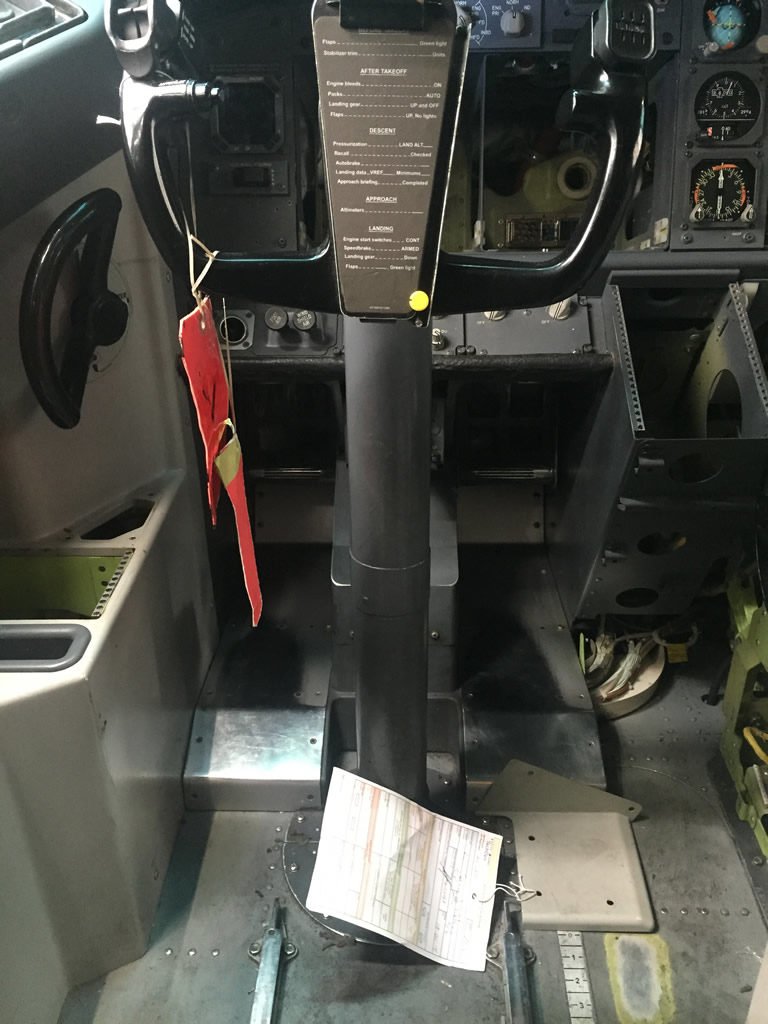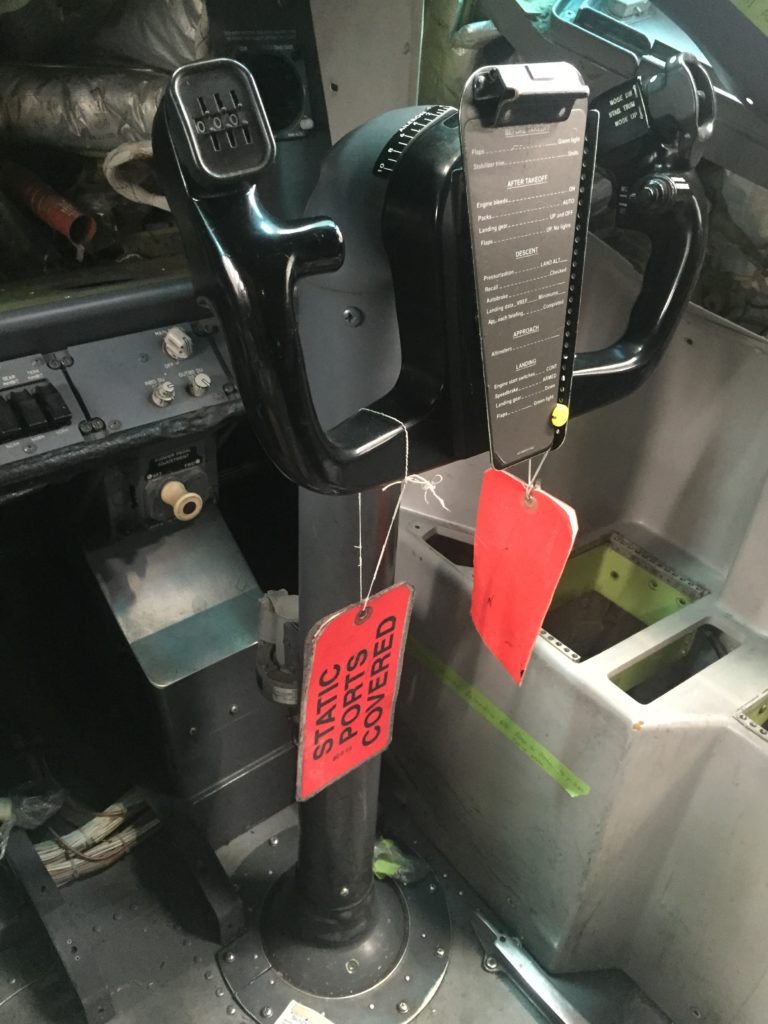 Now, I'll talk about some of the options available that I looked at, and pros/cons of each below. This is by no means a comprehensive list. I looked at a lot of options out there, including sourcing and building real pedals which I determined would be more work than I was up for (plus my floor wouldn't support an under-floor mechanism and I didn't want to tear it all apart). But these are the pedals that caught my attention the most.
OpenCockpits (OC)
As we all know, nothing in this hobby is very cheap if you want it to look and more importantly "feel" right. The most affordable reasonably accurate set I found was through OpenCockpits. They are pretty basic in function, not having the forward/aft adjustment that the real pedals have, nor the adjustment housing and knob above the pedals. But they look fairly authentic based on observation alone. They are link-able to a second set which is a plus.
The down-side of these pedals are that the two sides of the center housing have flanges which extend up past the top which I suspect is to hold a fake rudder pedal forward/aft adjustment box/knob, I assume. This bothered me for some reason. Why put those there if there isn't something you can buy from them to put there? They are not adjustable, and based on observation I'm not sure how solidly built the internals are to withstand heavy abuse.
Price-wise, these pedals are a very good deal at 695 Euro (around $800 USD) each plus shipping with a slight additional cost for the link bar, if you want it. And while shipping wouldn't be cheap to the U.S., even with shipping these were probably the most affordable set for the realism I could find.
FlightDeck Solutions (FDS)
The next set that interested me was from FlightDeck Solutions out of Canada. Many of my sim components are from them and generally I have been very happy with the quality. Their pedals also appear to be fairly accurate (none ever seems to be perfect) and have the forward/aft adjustment handles like the real aircraft. They are link-able and FDS claims on their web site that they'll stand up to heavy abuse and replicate the heavy feel to replicate the real thing.
For some reason, though, the adjustment lever housing is not enclosed by a circuit breaker box like the real thing and the aluminum foot cover doesn't have the angled rise at the rear as real thing so it's still lacking in realism a bit. .
At $3699 CAD (around $2800 USD) for a single set and $6995 CAD a pair (around $5300 USD) plus shipping, they are not cheap. I could buy two OpenCockpits pedals and the link bar, pay for shipping, and have money left over! But the exchange rate between the U.S. and Canada is good, as well as shipping costs are usually less than from Europe. And Peter, at FDS, has always been quick to respond to questions so I have had no issues with support of their products to date.
Considering I already have a FDS instrument panel, everything should fit well so this was probably my best option.
However, if I was going to spend that much money, I wanted to see what else was available.
Flight Simulator Center (FSC)
Flight Simulator Center, out of Italy, has been around a while and just recently released their version 2 adjustable rudder pedals. From looking at their entire product line they tend to build some very well-engineered and constructed components for simulation. They generally go into great detail about their products, including lots of pictures of external and internal mechanisms, dimension drawings, and operational features of their products. I greatly appreciated that as a customer, especially if you are about to spend good money.
Looking closely at the product details you could see this appeared to be the most solidly-built, well-engineered, and physically accurate rudder pedal set out there. They appeared to be very solidly built and engineered, they are forward/aft adjustable, and they include the circuit breaker box with adjustment handle and decals. Discussion with Giovanni was friendly and he was always quick to respond to any questions I had.
At 2500 Euro (around $2750 USD) for the captain side and 2200 Euro (around $2450 USD) for the F/O side plus a hefty $500 USD to ship (they are HEAVY), these pedals are not cheap either, but they are comparable in price to the FDS pedals and I think they look more polished and complete than the FDS pedals.
What Did I Decide?
After I felt comfortable I had exhausted my options I bit the bullet and ordered a set of FSC pedals. Naturally I was worried about spending that much money with a company I hadn't done business with, and on the other side of the world. I have heard horror stories of people losing their money to non-reputable simulation companies. But I had heard good things about FSC and Giovanni kept me posted on the status of the delivery so that eased my concerns quite a bit. And tTrue to their word, the pedals shipped and arrived about a month and a half after I ordered them.
When the FSC pedals arrived you could already see the first-class design shining through. The box was well constructed and labeled and only slight damage to the box occurred during shipping.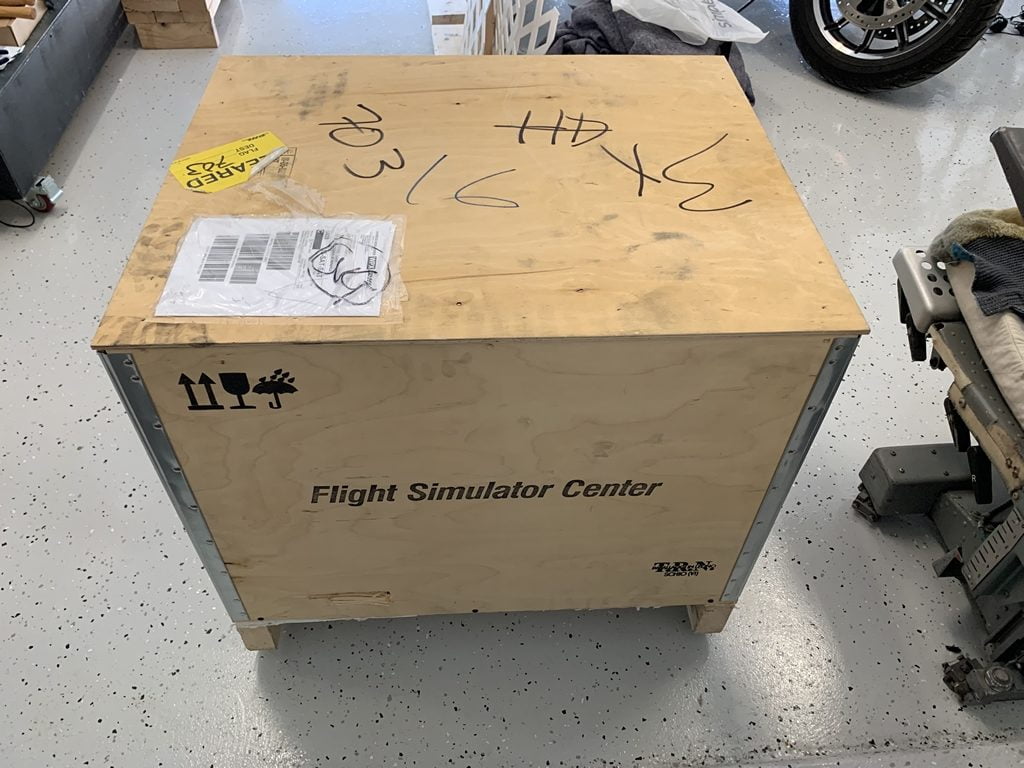 Upon opening the box, I was happy to see everything was screwed down and packed/padded very well. Nothing had shifted during transit and there was no interior damage.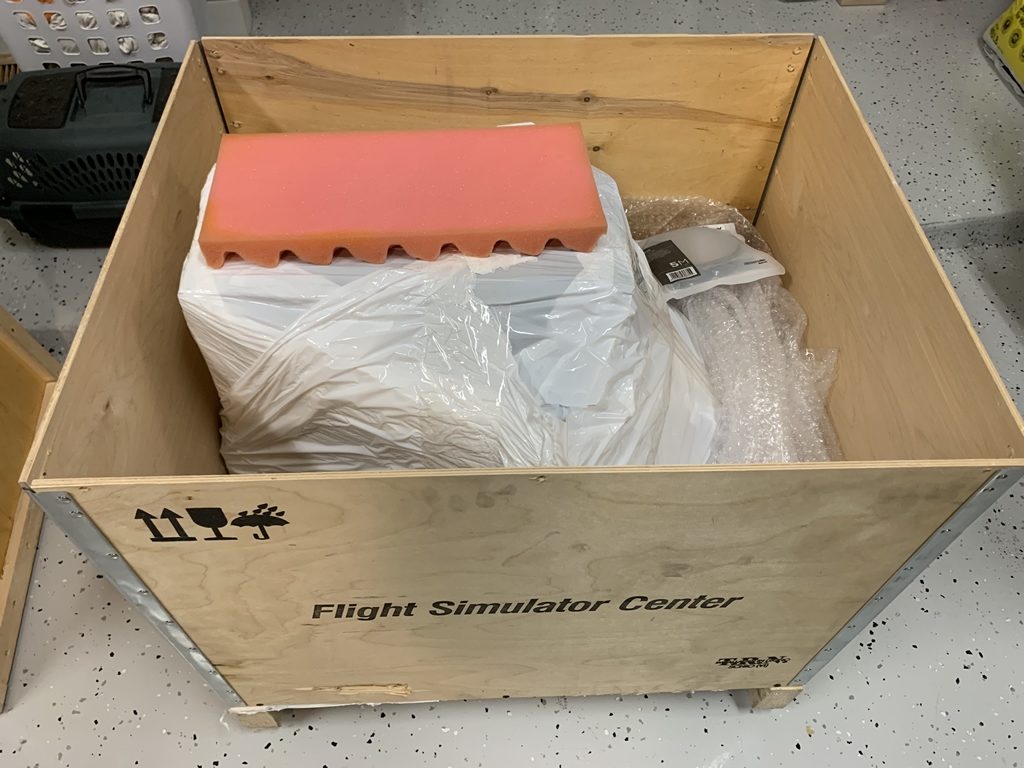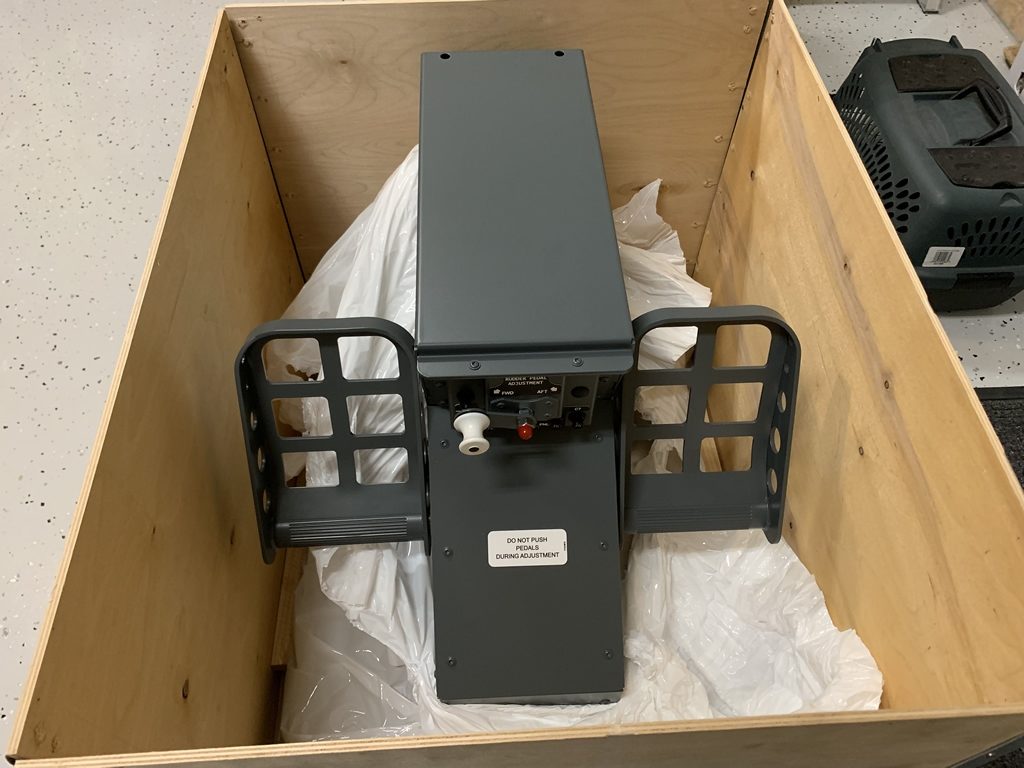 Once all the tie-downs were removed inside the box, it took some considerable effort to get the unit out of the box since it is very heavy. Once out, you can immediately see the quality of the unit. The workmanship is top-notch and the unit is perfectly painted with no blemishes or unevenness in the paint. There were no loose components and everything worked as it should including the adjustment handle. Knowing what it takes to engineer and fabricate things like this, I can say it is absolutely worth the cost.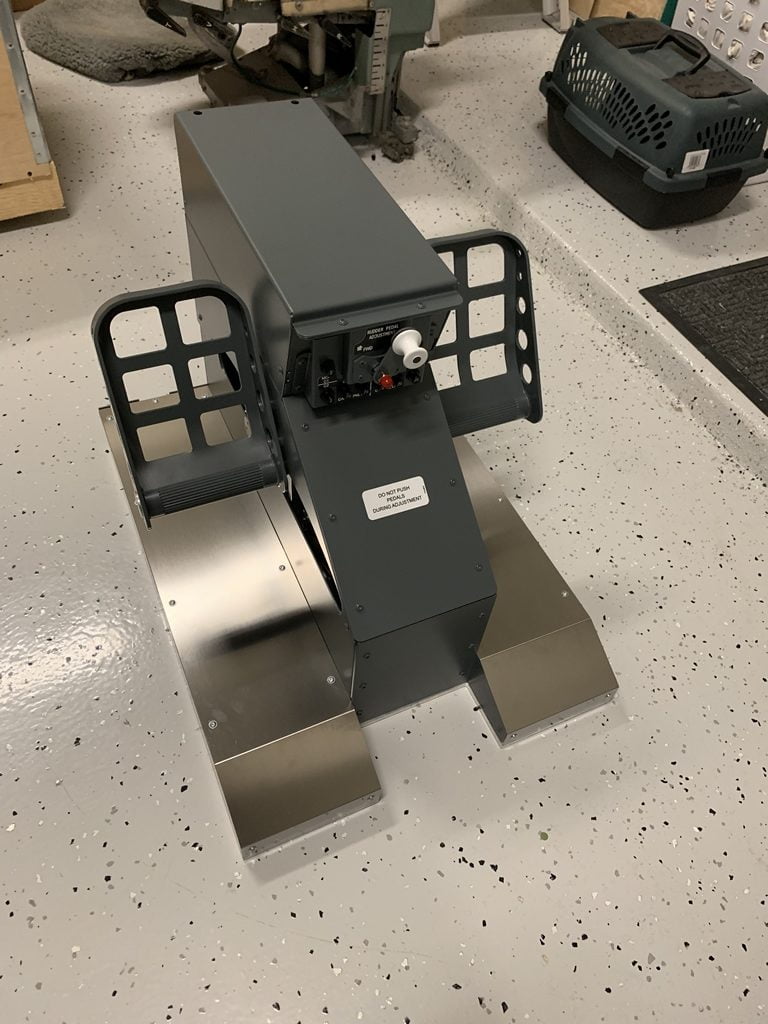 On the rear you can see the rudder link shaft sticking out of the unit. It is splined and of very high machine quality. I have no doubt it could stand up to a lot of abuse with ease. Eventually I will buy a second set from FSC to link to these.
Once positioned in my sim you can see it looks pretty sharp. The adjustable pedals make a big difference, in my opinion, in getting the pedals where you want them so you can operate them effectively while still sitting comfortably.
Even better, the pedals also fit perfectly into my FlightDeck Solutions Main Instrument Panel (MIP) with no modifications. I had no problem sliding them into place and the fit is nice and snug, as it should be.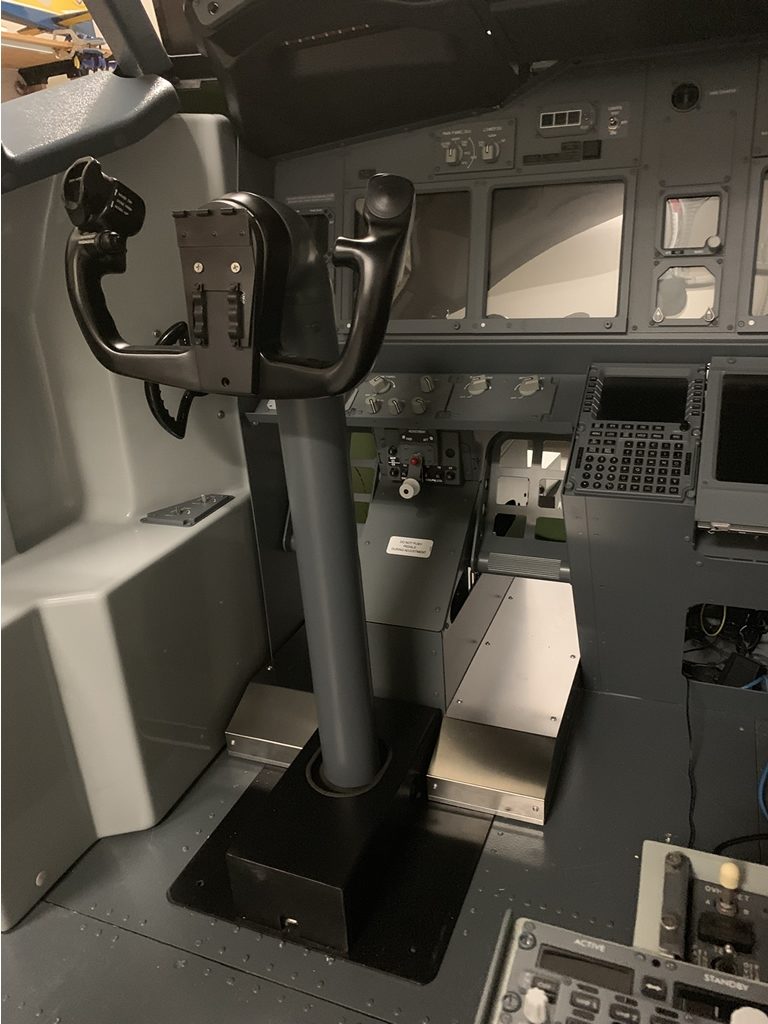 Note that I had to rotate the base of my ACE captain yoke 180 degrees since the USB port in the yoke base (seen in the picture above) would otherwise be blocked by the rudder pedal center housing. But that meant the yoke was now backward, so I had to unscrew the yoke head, rotate the head 180 degrees, and screw it back together (required some filing of the screw holes which no longer properly lined up).
The latest ACE yoke column is not perfectly centered in the base. It's actually shifted more toward the side opposite the USB port. So as originally designed, the USB port would be facing the front of the sim and the column would be further back. By turning things around, I was able to shift the yoke closer to the MIP (and more in line with the real thing) while positioning the USB port to the rear, enabling me to route the cable under the seat and down into the floor. It all worked out nicely.
Nothing is Perfect
While the FSC pedals are the closest simulated pedals to the real thing I have encountered, and I am extremely happy with them, they still aren't perfect. There are a few nits that aren't show stoppers but I hope will be improved in the future.
The knob on the adjustment handle isn't on a ball-bearing so it doesn't rotate smoothly as you rotate the handle around.
The center cover doesn't replicate the real aircraft closely. If you look at the real picture at the top of this post and the FSC pictures above, you'll notice the difference in housings. I also noted that the adjustment knob location may be a bit too far back compared to the real thing. I haven't measured, but eyeballing it/feel tells me this may be the case.
The brakes (pushing the tops of the pedals) are a bit too easy to push. It takes a lot more effort in the real aircraft to activate the brakes than on these pedals (based on my experience in the real sim). I also haven't seen any simulated 737 pedals that mimic the realistic significant force at full brake travel needed to disconnect the parking brake. In the real aircraft (well, the real sim), when you depress both pedals equally and fully with extreme effort, it unlocks the parking brake. The FSC pedals (and no other I know of) replicate this.
And lastly, the foot plate covers don't angle upward behind the pedals like the real aircraft pedals do.
I can live with that.
Verdict
If you're looking for the best replica pedals you can buy right now, I'd say the FSC pedals are it. I highly recommend them, if you can afford the investment. These are going to be used and abused over the life of your sim so it makes sense to get something that will last. I believe these will do just that.
There are many options out there and it's really very subjective. What level of realism are you looking for? How much are you willing/can you spend? Can you do it yourself? What vendors do you trust? How convenient is it to get them? How is the after-sales support? All good questions to ask.
All I can say is do the research. Ask around. Read forums. Make an educated choice. And then hope for the best. Just make sure you can get your money back should things go south.
Happy simming!