Last Updated on September 27, 2019
So, I have been talking a lot about Sismo, for better or worse, over these last updates. I had some pretty strong frustration initially, but now that Prosim v2.0 has come out, a lot of headaches are behind me, thankfully. This has allowed me to get back to building!
I have made a lot of progress lately. I am temporarily mounting things into my unpainted FDS shell to make sure everything works the way it should and get to a somewhat flyable sim so I can have a little fun (and hence a feeling of progress…very important because it's easy to get discouraged!).
Once major components have been placed and work the way I want, I'll tear it all down to paint the flooring and finish the outward shell appearance which I plan on vinyl covering versus painting. I should have spent the extra money on a powder coated FDS shell, but I chose against it to save money. Now I'm regretting it.
As of right now, I have mounted my scratch built FWD overhead, loosely fitted the MIP, Jetmax throttle, home-built pedestal, and connected up all the displays.
I also picked up a used Optoma GT1080 projector and bought a cheap 16:9 collapsible screen with stand from Amazon to project P3D to.
I'm also waiting on a new EVGA 1080 TI FTW3 Hybrid to replace my older 980 TI and hopefully smooth out the last of the stutters I have. Now is NOT the time to be buying video cards with the Bitcoin stampede on cards, but I bit the bullet since I'll be working on a curved screen soon and likely will be driving multiple projectors and thus need a stronger card. I hope it's worth the investment.
And I have some replacement gauges coming from Tom over at CustomSimParts.com. The gauges I have from CockpitSimParts.co.uk are great, especially at the price point. But I wanted to have lighted needles and CustomSimParts has some good options at an affordable price.
Finally I have someone who will be converting my real Fire Pull Panel to work with Prosim. I'm excited about that one. My first real part and it's going to be a useful one for emergency training!
This is what it looks like at the moment: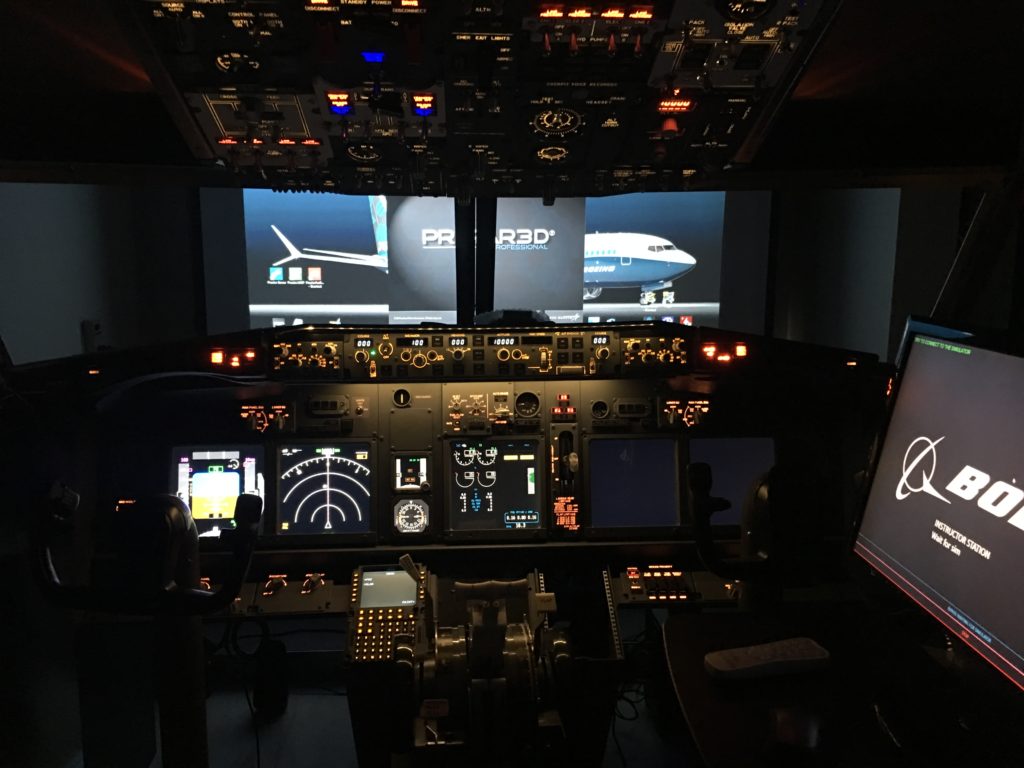 Hopefully you agree it's starting to look pretty good!
One of the things you may notice on the right side of the first picture is the monitor with FS Instructor on it. It's a nice way to create an instructor station for your sim. You may argue that Prosim has its own instructor station, which is true. But I have some more flexibility to control other things with FS Instructor and I like the interface a bit better to be honest. I'll talk about FS Instructor in another post to come.
Along with FS Instructor you get Soft Launcher, which allows you to create startup routines for your sim. So with one click I can fire up all my software across all my connected PC's saving me a lot of time and hassle.
Here's an example of the Soft Launcher startup workflow I have set up on my master PC, which then tells the P3D and Avionics PC's to fire off their respective Soft Launchers, each with their own local workflow.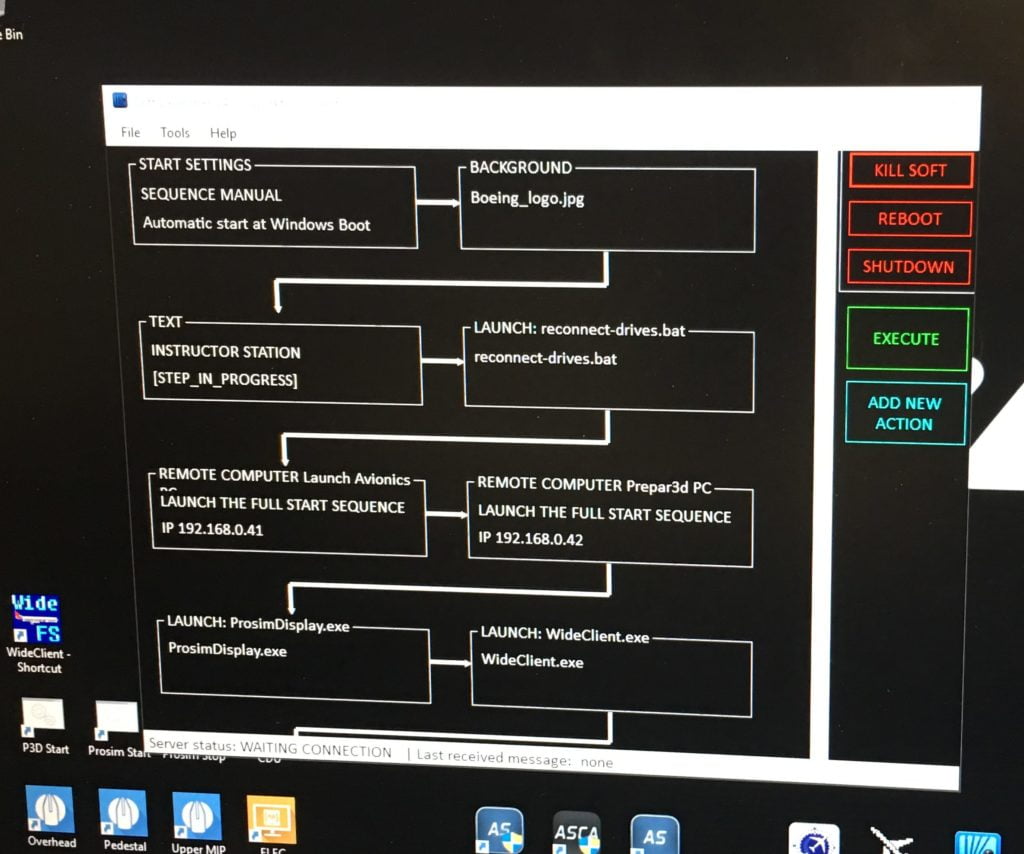 I've also begun work on my AFT Overhead. I have already test fit it and made sure holes were pre-drilled to fasten to the FDS shell. Now it's just a matter of finishing up the wiring. MUCH simpler than the FWD overhead which was a bear to complete. I'll detail the AFT in a later post.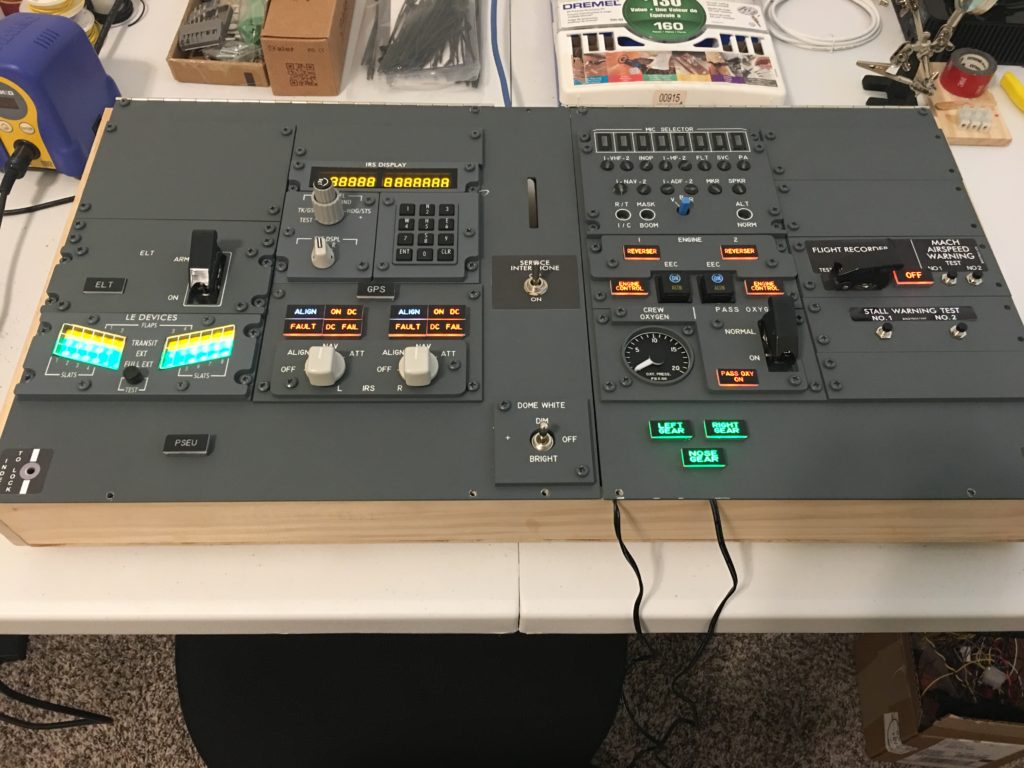 Still quite a bit left to complete. I have to wire up my pedestal and FDS radios. I only have a few of their Ethernet radio modules so over time I will have to finish that out. Still need rudder pedals, FDS shell interior liners, rudder pedals, to mount the steering tiller, put in seats, and on and on.
We're getting there!