Last Updated on November 5, 2022
The Main Instrument Panel (or MIP) is where the primary bulk of work is done in the cockpit. All your situational displays are here and the controls for the autopilot and flight management computer sit in the MIP as well.

My MIP consists of the following main components:
Main Instrument Panel/Pedestal Bay: Flight Deck Solutions
Mode Control Panel (MCP): Flight Deck Solutions
Electronic Flight Instrument System (EFIS): Flight Deck Solutions EFIS x 2
Control Display Unit (CDU): Flight Deck Solutions 737 CDU x 2
Captain and F/O Clocks: Flight Deck Solutions 737 Clock x 2
Capt/FO Displays (ND/PFD): 18.5″ 16:9 Aspect Dell LCD's with bezels removed
Center Display (Upper EICAS) and standby instruments: 15″ Dell 4:3 Aspect LCD with bezels removed
Lower Display (Lower EICAS): Flight Deck Solutions Lower EICAS Display Kit
Main Instrument Panel Kit
I bought my first major simulator component in 2008. It was a Boeing 737NG dual seat MIP kit from FlightDeck Solutions (FDS) out of Canada. At the time it was around $2-3K. I also purchased their hardware kit for an additional $750 which included all the switches, buttons, and indicators needed to fully populate the MIP. I highly recommend buying a complete hardware kit with your MIP so you have everything you need.
Frame Assembly
Once I got the MIP kit from FDS the instrument panel went together easily with just basic tools. I quite enjoyed the build. The only concern I had was without a cockpit shell to mount the MIP in, the side legs are somewhat flimsy and the MIP will sway side to side a little bit. Just something I had to be mindful of when moving the MIP around.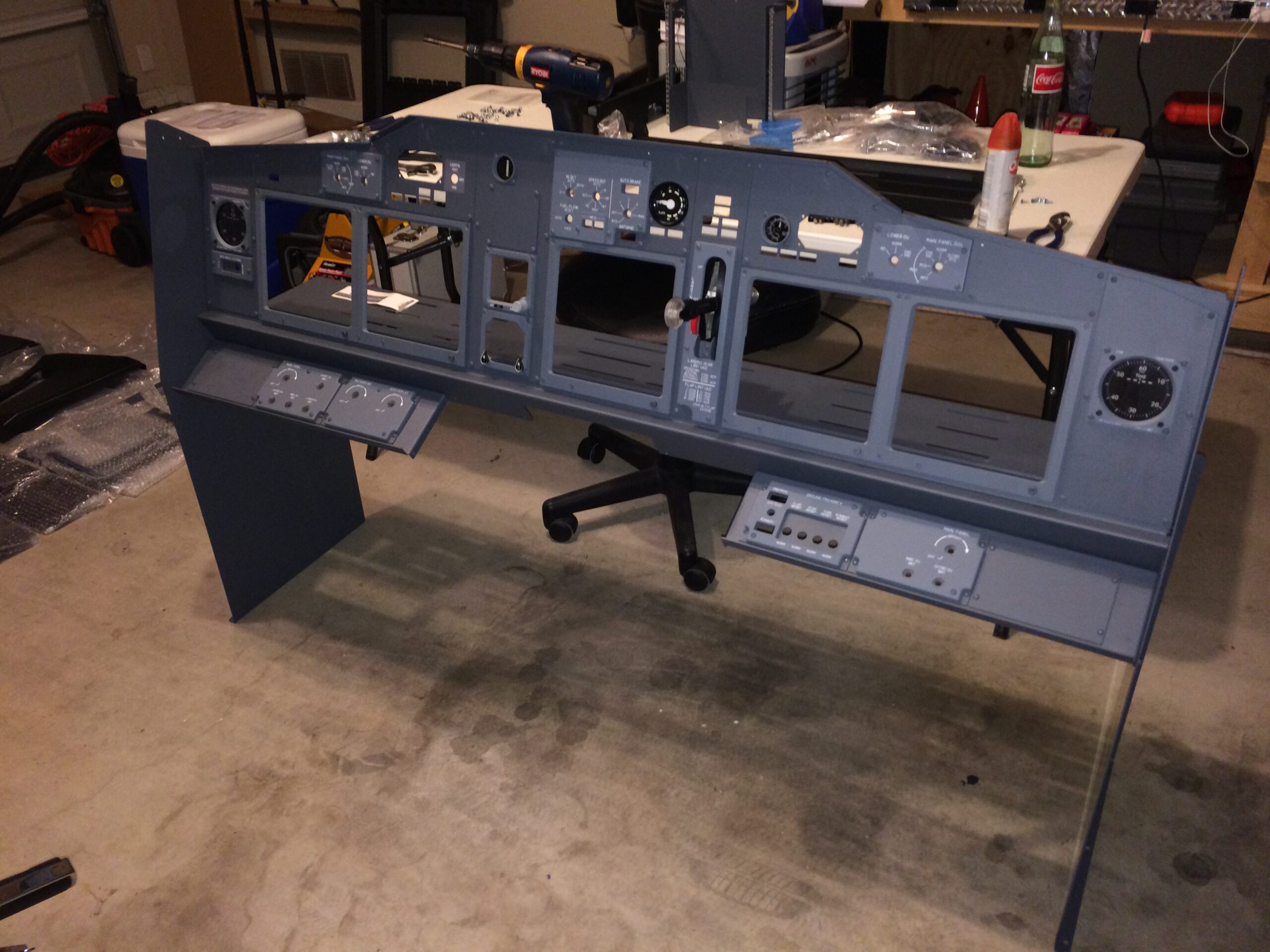 The MIP otherwise is a solid and well-built piece. It's powder-coated aluminum in the right Boeing color. It included the CDU bays with aircraft DZUS mounting rails where I later added some quality FlightDeck Solutions CDUs. You can tell a lot of thought went into the design, and it has held up very well over the years.
Once built I then added switches and indicator lights from the FDS hardware kit (not shown).
Displays
Next, I needed to add three computer monitors mounted behind the frame to mimic the individual instrument displays. I had to buy these separately. The displays on the Captain and First Officer sides are served by two 18.5″ widescreen computer LCD monitors. A third 15″ 4:3 aspect LCD is used for the center EICAS display and the two standby instruments.
FYI, the 15″ displays are very hard to find these days so if you find some, buy two so you have a backup if you ever need it.
To mount the LCD displays behind the instrument panel I bought three FDS LCD mounts. These mount to both the instrument panel back frame and the back of the LCD monitors to hold them nicely in place. They are fully adjustable so the perfect position can be achieved.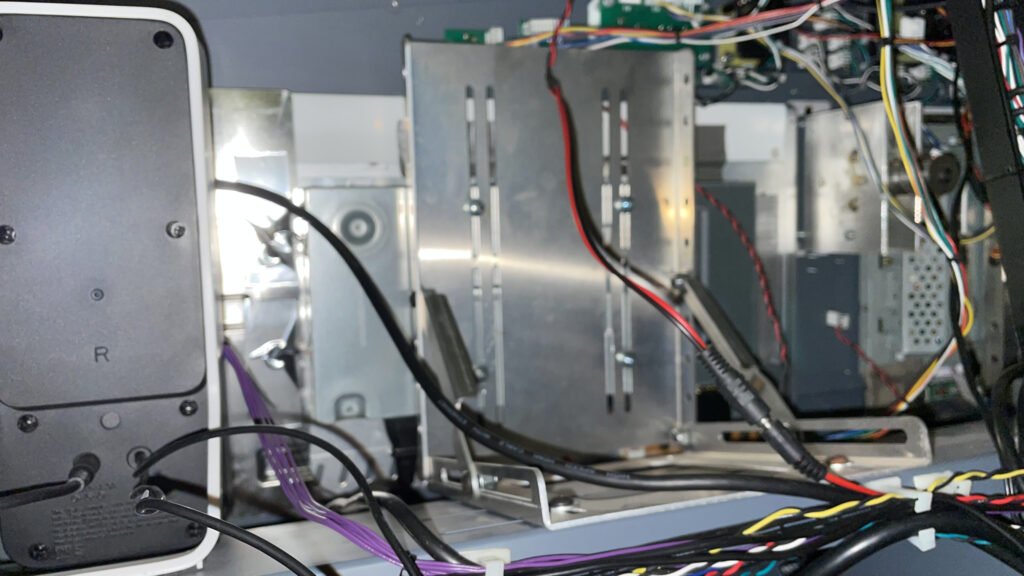 The LCD monitors needed to be removed from their plastic housings in order to fit flush against the inside of the instrument panel. It's easy enough to do.
Wiring and Interfacing
As part of the MIP purchase, I bought a FDS SYS interface card to wire everything to. All the switches and indicators plug into it, and in turn, the card connects to the computer via USB cable. The avionics software is then easily able to communicate with all the indicators and switches. I have a lot of the SYS cards in my simulator and I have been very happy with them.
I felt a bit overwhelmed when it came to wiring it all together. It's actually not that hard now that I understand it all, but I didn't know what I was doing at the time. Fortunately, I saw FlightDeck Solutions was making wiring harnesses at the time so I asked them make me one. For the few hundred extra dollars at the time it was absolutely worth the money. I was able to plug in everything and get up and running within minutes. Unfortunately, I don't think they make them any longer which is too bad.
In the pictures below you can see what's behind my MIP and the boards used to control everything.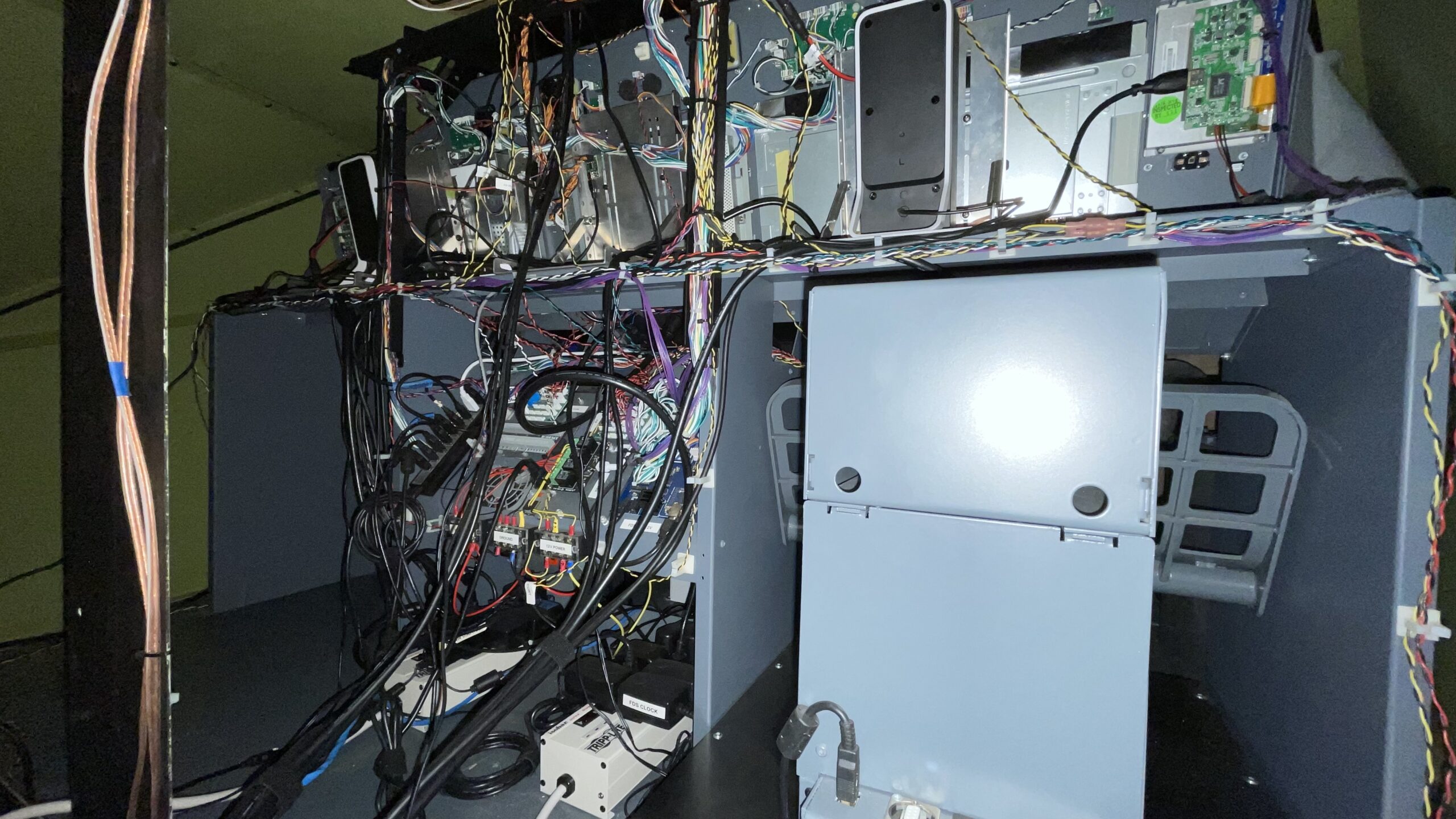 Here are the interface components I used and the purpose of each:
10-Port powered USB hub – Used to connect various USB devices to the PC. All of the interface boards have USB connectors, and other nearby components like the rudder pedals, yokes, throttles, etc all needs USB connectivity. This centralized hub makes it easier to keep things consolidated.
FDS IBL dimmer boards – There are two. These allow me to supply 5 Volt independently dimmable power to the captain and FO panels. The Captain and FO kickboards have knobs/potentiometers to control the various panel lighting through these boards. Each IBL dimmer board is connected to a Phidgets relay output. This allows me to independently activate power to the captain or FO side panel lighting per the real aircraft depending on whether aircraft DC or AC power is activated.
Leo Bodnar BU0836X – This joystic and I/O controller allows me to take the analog outputs from the various other potentiometers such as instrument display brightness and feed their positions to the ProSim avionics software.
CPU Power Supply – This provides constant 12V and 5V power for the various power distribution blocks you see beneath the power supply.
Phidgets Relay – This 4-channel USB relay allows me to provide power to various components of the MIP as needed. The ProSim avionics software is able to activate the relays based on conditions in the aircraft, like whether it's on simulated DC or AC power.
FDS SYS board – All LED indicators are controlled by this board. All toggle and rotary switch outputs are also connected to this board which then communicates via USB to the ProSim avionics software.
Pololu Servo Driver Board – This board controls the several servo-driven gauges in the MIP to include flap gauge, brake pressure gauge, and yaw damper gauge.
To be Continued
I will provide more information on the MIP build in the near future. For now, please check out my photo gallery below.